If you've been following along for a while, you'll have seen me teasing something new, and, well, here it is! Without further ado, I'd like to announce that today, Agile with Edele transforms from my humble blog into a learning resource for Agile and Lean practices.
Whether you're new to Agile and Lean or already an experienced practitioner, my aim is to build up a catalogue of useful and entertaining information in the form of animated videos, to help you gain a better understanding of Agile and Lean and stay on top of everything new that's happening in the field.
Those of you who've launched a side project will know that it's almost impossible to describe how exciting - and terrifying! - today is, as you all finally get your hands on all my hard work for the past few months. It began oh so subtly, with the change of URL a while ago, and now, well, here we are. Definitely still at the beginning of the road, but with a huge milestone out of the way.
Continuous Learning
I've been doing a lot of research (and drinking a lot of flat whites with interviewees), and something I've found time and time again is that people looking for a change of career into, say, a Product Manager role, don't know where to start. The vast amount of misinformation on the web about Agile is to blame. There's so much confusion in places that it could even be harmful to companies' ability to deliver: claims that Scrum is the same thing as Agile, or you can't be doing Agile unless you're using story points, or that Kanban boards have three columns (to-do / doing / done)…
Fundamentally, the reason this confusion exists is because there is no single answer to "how to Agile": learning the mindset and experimenting from there is crucial to find any kind of success. But packing your bags and heading off for a weekend course in Agile doesn't help with this experimentation: no matter how much you score on the final exam, when you walk out of there with your certification, the course is over. You're on your own.
Agile with Edele can provide that helping hand, primarily with the animations I've been putting together. Got a few minutes spare, and got your phone or laptop to hand? My videos can fill that gap. Just think - you can come out of those few minutes with more ideas on how to tackle that inefficiency at work, help your team become a more cohesive unit, or maybe even more suited for that new job that's caught your eye!
So why animations?
As a visual learner, I appreciate the need for a learning format that's more than just a wall of text, or my disembodied face giving a solemn sermon into a webcam. Animations allow me to create realistic scenarios with believable characters - so you can draw parallels between their situation and yours! This makes for a much more engaging experience, and hopefully helps you retain more information too.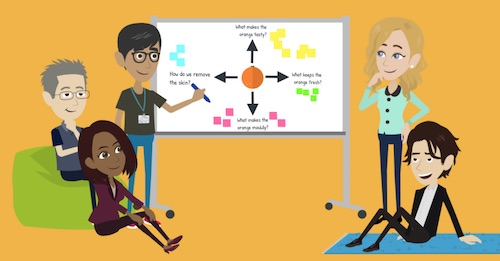 Of course, there's still the risk that when the heat of the moment strikes, you won't remember that crucial piece of advice from a video - visual or not. That's why many of the videos will also be supplemented with downloadable resources like posters and flashcards for you and your teams to use. Even starting from zero knowledge of Agile, you'll soon gain the tools and knowledge to be able to help your own teams find success.
Feed me feedback
Today's launch is a beta version of the site, with just a few videos available. I'd love to have you on board - sign up for free and check out the first lessons already! Over time, I'll be adding more videos (and more practical material too!) - and yes, there will be a paid plan. Of course, in the true spirit of Agile, your feedback is going to be the most valuable thing to help me shape this, so using the feedback tab or sending me an email will help this to become a more effective resource for you.
Finally, - and I don't ask this much - please do share this around. Got that one friend paralysed by impostor syndrome, looking for a change in career but unsure of where to start? Reckon something like this would be useful for your colleague in another dysfunctional department? Or even just wish your relatives understood what you do at work? Throw Agile with Edele their way. Ask them to give their feedback, too. That way, we all chip in to make this the killer learning resource I know it can be.